A healthy mouth helps to make the rest of the body healthy.
Periodontal disease (periodontitis) is an infection of the gingival tissues (gums), the supporting alveolar bone (the bone that houses the dentition) and the ligaments that support the teeth. Periodontitis is actually the leading cause of tooth loss in adults and not tooth decay (cavities) as in children, teenagers and young adults.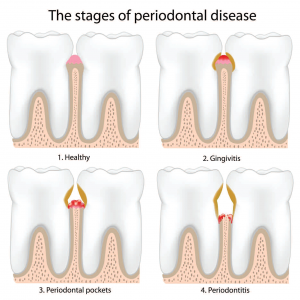 The long standing infection of the tissues that house the teeth (periodontium) is generally painless and ultimately leads to the loss of bone support and increased mobility of the dentition. If left untreated this disease process progresses to the point that teeth can be lost because the bone that supports them is eroded and can no longer support the teeth.
Gingivitis, in comparison, is an inflammation of the gums surrounding the teeth. Initially, it is not an indication of periodontitis, but more of an indication of poor brushing and flossing due to the accumulation of plaque around the teeth. Dental plaque is a viscid white substance that accumulates on teeth that contains sugars and bacteria. Toxins produced by the bacteria can breakdown tooth structure creating decalcifications (white spot lesions), cavities and irritate gum tissues resulting in chronic inflammation. Even though improved brushing and flossing can improve gingivitis, periodontitis requires professional help.
Long standing gingivitis ultimately leads to periodontitis because of the constant presence of the bacterial toxins destroying the gum tissue and bone. As the disease progresses, the pockets around the teeth become deeper due to the bacterial toxins and are harder to keep clean, preventing the removal of bacteria and thus increasing tooth mobility. Furthermore, because the gums are very vascular, even the slightest disruption of the infected gum tissue results in an increase in bacteria and their toxins into the bloodstream. This increase in bacteria and their toxins the bloodstream can trigger inflammation throughout the body and may adversely affect the blood vessels and the heart.
Some risk factors that can influence and increase the risk of periodontitis include poor oral hygiene, tobacco use, drugs, diabetes, hormonal changes reducing the immune system, dental crowding preventing appropriate cleaning, and genetics. Symptoms of periodontal disease include chronic halitosis (bad breath), bleeding gums while brushing, mobility of teeth and changes in the bite, and itching or tooth pain in moderate to severe cases. If you are experiencing any of the above problems you should seek professional advice from your dentist or periodontist (specialist in periodontal disease).
A healthy mouth helps to make the rest of the body healthy.
Bradford N. Edgren DDS, MS, FACD, Diplomate, American Board of Orthodontics, 3400 W. 16th St. Bldg 4-V, Greeley.